Retractable Screen Doors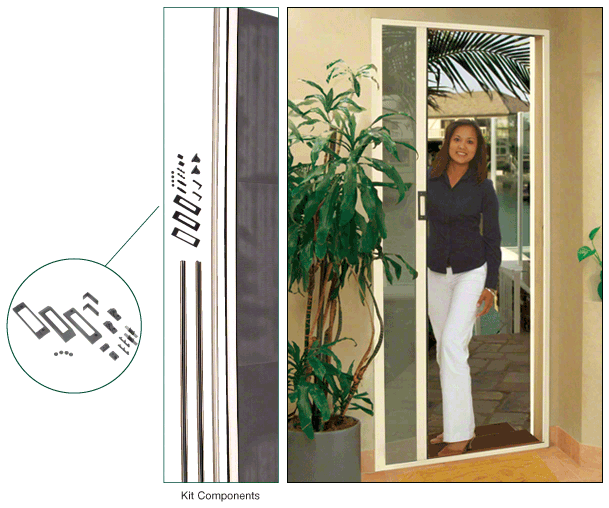 This Euro Retractable Screen Door is non-handed, so it's easily field reversible for left or right openings. It can be mounted on the outside of the door for inswinging doors or inside of the door for outswinging doors. Two simple chop saw cuts size the door to desired height and width. Each kit comes complete with special clips for surface mounting the door to the exterior jamb.
The Euro Retractable Screen single and double door design has a unique, comfortable and easy-to-use positive lift and latch handle that keeps the door firmly closed, even in windy areas. There's no need to break a magnetic field to release the door, an important advantage, especially for the elderly.
Screen mesh rides in a top and bottom rail with heavy wool pile both inside and out. The rails are deep enough to prevent the wind from blowing the mesh loose, and yet the mesh will pull loose if a person or animal inadvertently walks into it. If the mesh does get pulled from either the top or bottom track, simply unlatch the door, let the screen retract into the housing, then pull the door closed; the screen will automatically reset itself into the tracks.
Fast, Easy Installation – Cut and Assemble on the Job Site

Easily Reversible for Left or Right Openings

Fits Most In Swinging and Out Swinging Doors Up to 48″ Wide

Available in Two Standard Heights: 84″ and 96″

Available in Three Decorative Powder Coated Colors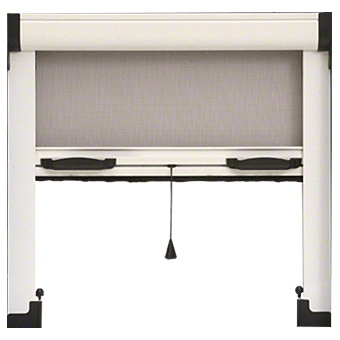 FRAME COLORS
All Euro Retractable Window Screens have a big maximum inside window height of 66″ (1.67 m) and fit a maximum inside jamb opening between 31″ to 55″. Each Kit includes: Powder coated extruded aluminum lineals, durable 18 x 16 mesh charcoal fiberglass screen wire, quality mounting hardware, and are easy to install.
The Euro Retractable Window Screen has top and bottom expanding feet that securely wedge the frame into the inside of the jamb. Screens are interior inside jamb mounted, and can be left in place all year, eliminating the need for seasonal removal and installation.
Tru-View Screens are "out-of-sight" and are an excellent choice for stylish and practical homeowners. Elegant and functional, our screens are made in the USA. The "roll away" or "disappearing" window and door screen system combines the functionality of having a conventional screen for ventilation purposes and protection from unwanted flying insects with the beauty of an unobstructed view due to the "roll away" feature when your screen is not in use. Along with the impressive style of our state of the art slim design, we are proud to provide a safe product with a smooth reliable operation that is coupled with professional installation.
UV/Heat Resistant Nylon Parts
Powder Coated Finish
White, Black, Linen, Marvin Grey, Brown, Anodized, Grey
Magnet
Molded Handle
Extruded Aluminum
Stiffened Fiberglass Mesh Standard charcoal and Pet mesh Charcoal
44″ Standard mesh is recommended for up to 38″ width pull length
Standard Features
Extruded Aluminum
Rust proof Powder coated finish
Stiffened Screen Mesh
UV/Heat resistant Nylon protected parts
Color matched easy pull handle
Surface or recess mounting
Left or right opening
Limited lifetime warranty on all parts (excluding screen mesh)*
7 Standard Colors
Linen • Black • Grey • Brown • Marvin Grey • White• Anodized
Optional Features
Recessed handles
Custom color match
Pet resistant mesh
No slam gear driven speed reducer
French Door kits
Over height and over width sizes available
Benefits
Can be retrofitted to virtually any opening:

Entry doors both single and double doors
Patio Out-swing doors
Sliding doors
French doors

"Out-of-Sight" when not in use
Easy operation
Low maintenance (see our helpful hints)
Greater Durability
Streamlined design for best esthetic value
Precision manufacturing and installation
Limited lifetime warranty on all parts (excluding screen mesh)*
Tru-View Retractable Screens Retractable Window & Door Screen Features Made In USA
StowAway™ screens glide smoothly and smartly bringing the best of outside in. Providing breezy cross-ventilation and expanding your space, StowAway™ retractable screens block the sun's rays, as well as insects and dirt. StowAway™ eliminates the need for storm doors and enhances the style of any door. When not in use, it glides away into an slim, self-protective casing. A refined, elegant solution for French doors, patios, lanais, decks, sun porches, sliding patio doors – you name it. You select your favorite color, style, screen texture, UV filtering, and latching options.
Our retractable garage screen doors works in conjunction with your existing garage door frame.  We can offer our customers the industry's first fully retractable passage door for easy entry and exit. Since most of our garage screens are spring loaded, this makes opening and closing your new extended living area a snap. No more sliding panels from one side to the other to get your vehicles out of the garage. Also, the sliding garage door screen system uses a vertical and horizontal track system mounted directly inside the existing door. No bottom floor track means no dirt and debris build-up to affect operation
Technical Information
Avalable Colors- White and Bronze
Comes in single or double car garage and 7 or 8 foot tall
Spring loaded for ease of use
No bottom rail