Roof Over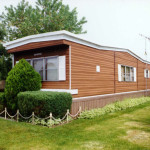 Put some green back in your pocket with our Energy Star approved roof solutions. With the cost of fuel rising out of control and affecting our utility bills, our roof over system can save you money. Our roof system will reduce your energy costs by 35%-50%. Each roof is custom made and never comes off a shelf. These systems are available for a single wide, to a triple wide and made to your specifications. We have numerous features included in each system such as, 100% aluminum, factory sealed seams, reduces roof rumble, never needs coating, 120mph wind rating, cleans with soap and water, lifetime warranty, completely ventilated, add an overhang option, and add a trim options.
Lanier Aluminum Products, Inc. fabricates high quality mobile home roof over systems as well as materials for rv awnings and camper awnings. This system guards against the effects of water and wind damage while increasing the R-value of the home by as much as 97%!
These mobile home roof overs are manufactured with pans that have a baked on enamel finish. Ballew's also uses double-sided foil backed Styrofoam for the highest R-value possible. Our aluminum products for rv awnings and camper awnings are also high quality aluminum with a baked on finish.
The Lanier mobile home roof over system triple seals the roof with three protective layers: two full inches of foam insulation, vent guard tape, and aluminum pans with a baked on enamel finish. It is important to note that there are no holes drilled through the surface of the roof.
Benefits for Mobile Home Roof Overs
Guard against the effects of water and wind damage
Guard against costly repair bills
Guard against outside noise
And save energy and money
Pan Color Selector

C-Trim Selector