Screen Rooms
Incorporating natural features, like plants and rocks, into indoor settings has long been a popular interior decorating theme. It's called 'bringing the outside in.'
But a new trend gaining traction is 'bringing the inside out.' This includes creating stylish and relaxing outdoor living spaces complete with 'inside' furnishings reminiscent of traditional living rooms or dens.
Consider equipping your room with fully retractable screens. Available with manual or motorized operation, retractable screens are custom made to your specifications.
While you want to bring the inside out, you still wish to keep the outside buggers out!
If you're shopping for a screen room, Lanier Aluminum Products offers an array of screen room styles that will fit any space and any budget. Custom manufactured to fit your home, our screen rooms are engineered stronger to provide maximum visibility and strength, and come with durable screen panels that stay in place for dependable use.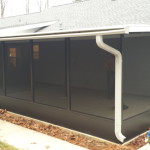 FOR MORE INFORMATION >>>>